Welcome to Holistic Core Restore® Everywoman
Our Foundation, Ground-Breaking 6 or 12 Week Pelvic Floor & Core Health Programme
Everywoman is a 6-12 week educational programme that focuses on the pelvic floor and core by addressing movement, nutrition, bladder and bowel health and women's wellness .
Our UNIQUE AND GROUND-BREAKING 6-12 Week 'Every Woman' programme truly is a gift that keeps giving and one that EVERY WOMAN should give herself at least once in her lifetime!
Enjoy 6-12 weeks of education regarding your Pelvic Floor, Core, Nutrition and women's fitness/wellness at whatever life phase you're in. The programme is adaptable for virtually all women and is designed to 'bring you back home' to your amazing body with your Pelvic and Core Health at the centre of our focus.
Weeks 7-12 are optional and all delivered online. You continue with your home workouts which progress further over the 6 weeks. You are also invited to stay in our private Facebook group to receive support and extras throughout the 2nd half.
Who is This Programme for?


Are you a woman who wants to know more about her Pelvic Floor, Core and overall health?
Have you experienced the odd leak when jumping, running, laughing or sneezing and know that that's a sign that you need to take control of your Pelvic Health?
Are you a woman that wants an easy to perform ANYWHERE, modern and effective way to strengthen her Core and re-establish its role as part of her whole body?
Do you have a small Rectus Diastasis (Tummy Gap) that you want to heal?
Do you have 'lower back pain' issues that you've been told is due to a 'weak Core'?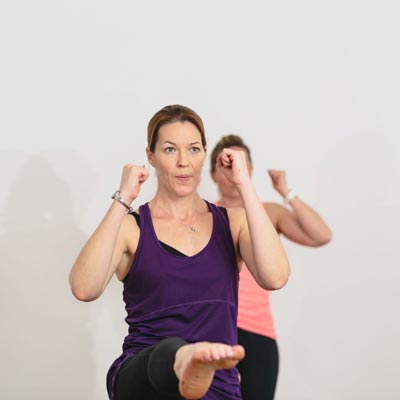 Do you want a better looking belly but know it's an inside out job so need to go deeper and work smarter than just doing 'sit-ups'?
Are you ready to prioritize this area of your health and learn ESSENTIAL skills to last you a lifetime?
You want to learn the importance of food for not only fat loss but nourishing your deep health?
Have you seen a clinician about a low level Prolapse and been told to 'do your Pelvic Floor exercises' as part of your management strategy?
Are you ready to learn the importance of 'rest' and 'self-care' as part of your wellness journey?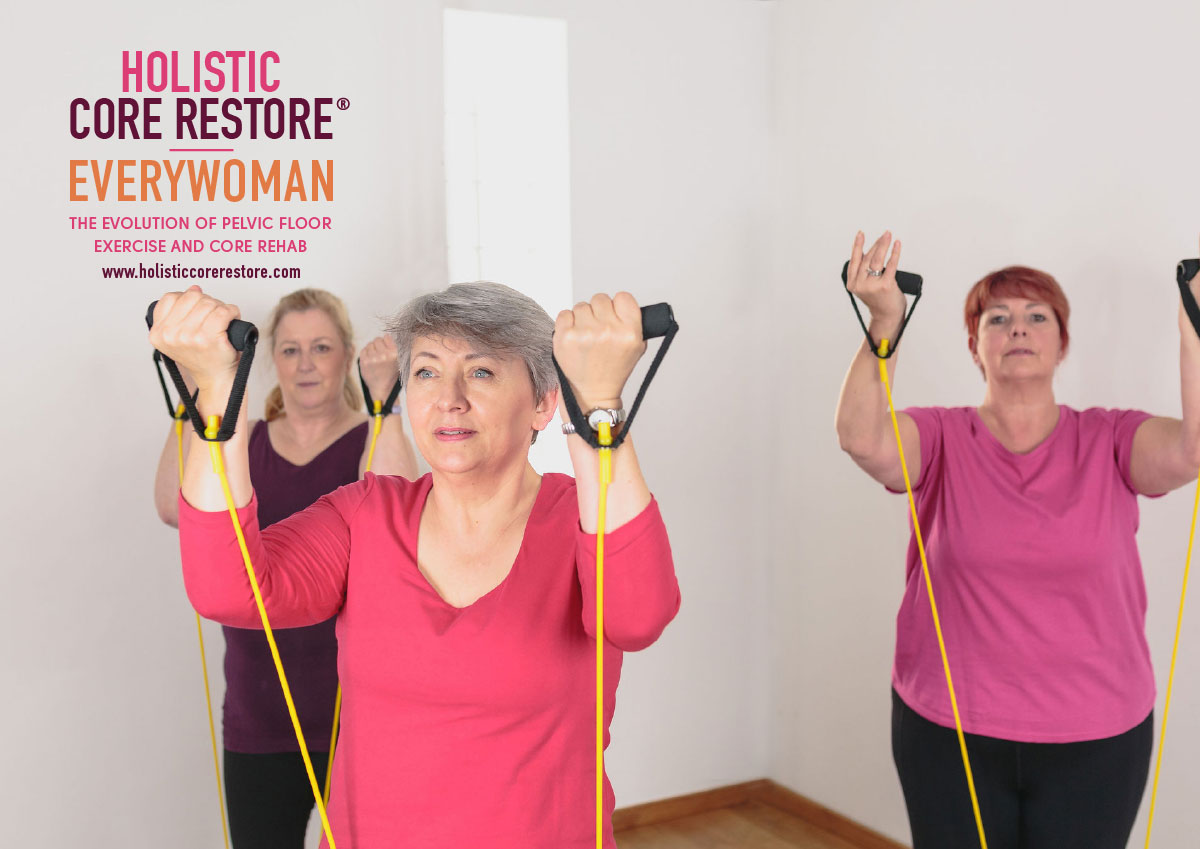 Upcoming Course Dates
Please contact [email protected] to discuss 1:1 or alternative group dates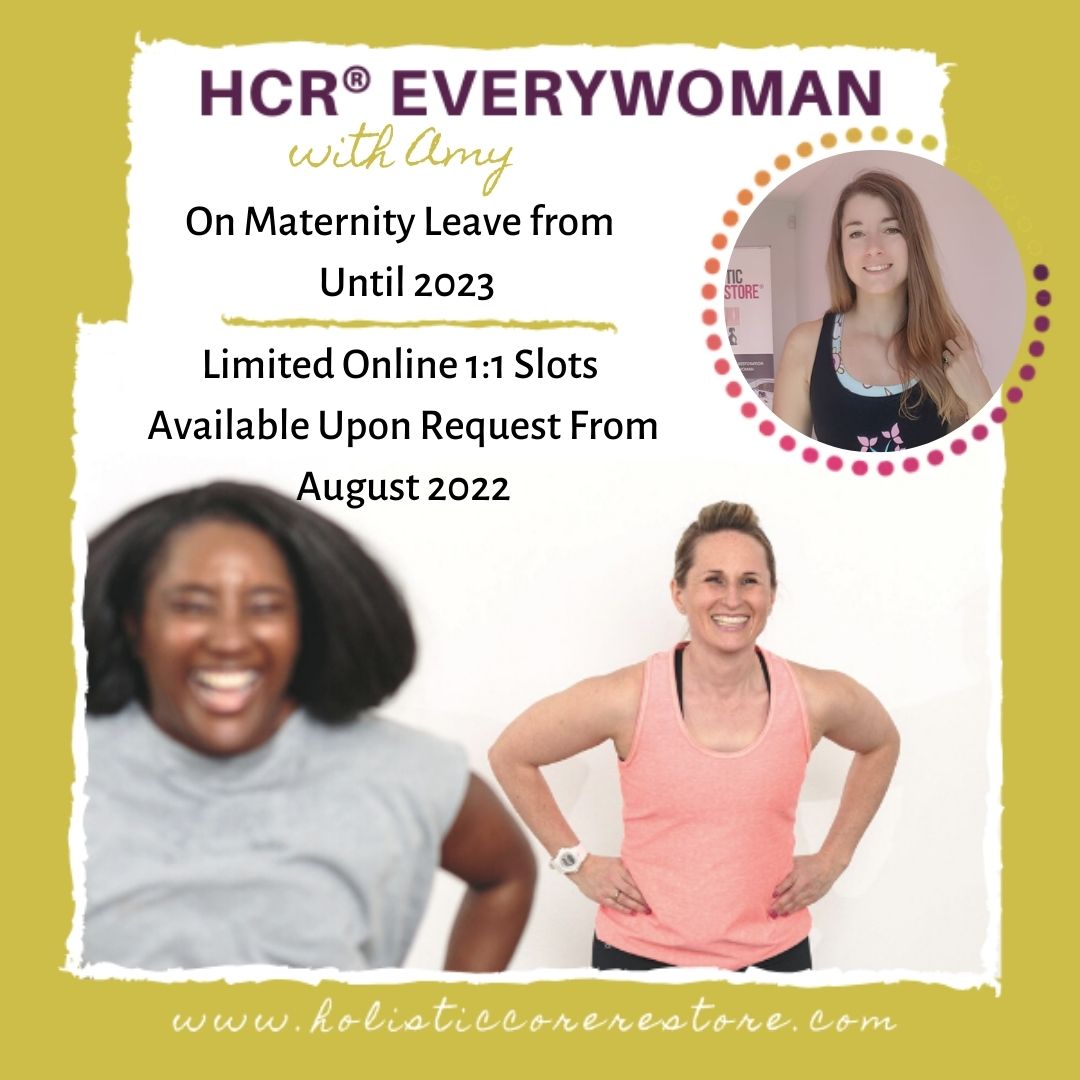 Maternity Leave Until 2023
Limited 1:1 Appointments Available
Amy is due to give birth in May and will be available for 1:1 appointments on Thursdays only, from late August.
Scroll down to purchase your plan & visit https://calendly.com/connecthfw/online90 to book your initial consultation
So, How Does it Work?
When you're sure you want to join the programme and have paid above to reserve your spot, you'll be asked to complete our online HCR® Pre-Screening to ensure that this safe and 'conservative' exercise-based programme is right for you, and to get a better idea of your individual needs.
​
Amy will then connect with you to discuss the Pre-Screening, so that we both know where you are on your health journey and the programme can be tailored to your needs before we begin the group sessions.
​
You'll then be all set to attend for your first small group session where you'll receive your HCR® Client Education Booklet and the key items of fitness kit required for the course. 
​
If you are joining us for an online course, please give us your address so I can post your kit to you in time.
​
Then you are all ready to begin your journey towards pelvic floor and core health & function!
​
There are a maximum of 10 places on each course, so if you truly feel this programme is for you, please don't delay in getting in touch for more information or simply signing up.
This programme runs for 6-12 weeks. You'll meet with Amy once per week for the first 6 weeks and complete your online homework, which is approximately 20 mins in duration, guided by Jenny Burrell, the programme creator, a further 3-4 times throughout your week.
Weeks 7-12 are solely online and optional although come highly recommended. You will continue to receive homework videos from Jenny with added online workouts from Amy. Support will continue throughout via our private Facebook group.
The Homework exercises are progressed and so over the course of the 6-12 weeks, as your strength and co-ordination improves, the exercises will become more challenging.
You can follow this programme either live as part of a small group of women or 1:1 with Amy.
Why Does This Programme Get Results?
Kegels, simply aren't the whole or the end of the story when it comes to having a functional core and Pelvic Floor. 
​
Your Pelvic Floor and Core muscles don't exist in isolation, and separate to the movements of your whole body and your breath. 
For your Pelvic Floor and your entire Core to work as it was designed to, we need to re-introduce it to the rest of your body and get it to do its job in time with your breath, movement, and whilst your not necessarily 'thinking' about it as well. Just like it used to do before you had babies or before you reached the Menopause.
Click Here to View The Science Behind Holistic Core Restore®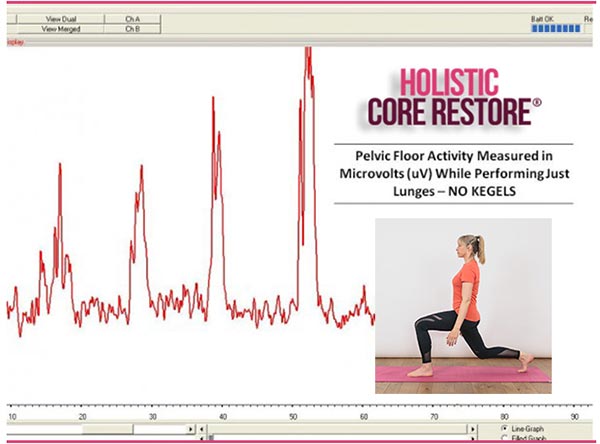 View Our Follow On Courses
Once you feel more connected to your pelvic floor & core, you can progress to any of the courses below. Talk to Amy if you have any questions.
Check your inbox to confirm your subscription